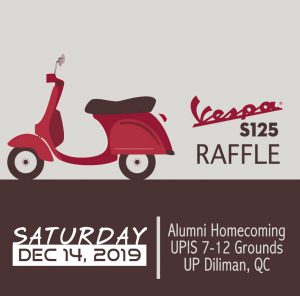 Raffle Prize: Matte Red Vespa S125
Ticket Price: P200, purchase tickets here
Raffle Date: December 14, 2019 during the UPIS Alumni Homecoming
Open to non-attendees and non-alumni
TERMS & CONDITIONS
1. Draw date is on December 14, 2019 at the UP Integrated School 7-12 Building grounds, during the Alumni Homecoming Program.
2. Deadline of raffle stub submissions is 9:00pm December 14, 2019.
3. The winner will be notified by SMS and email. Announcement of raffle winner will be done through the Galing UPIS website, www.galingupis.com, and its social media accounts in Facebook & Instagram.
4. Winner may redeem prize within thirty (30) days from draw date.
5. To claim prize, the winner must present the raffle coupon and two (2) valid government IDs.
6. By entering the raffle, the winner agrees to pay for any and all applicable taxes and charges as well as vehicle registration fees.
7. In the event that the winner is unable to claim the prize and/or settle applicable taxes and charges within the period set forth in paragraph 4, or cause the registration of the vehicle in his/her name within a reasonable time, not exceeding three (3) months from the date of the raffle draw, or the winner waives the prize in writing, the prize shall be forfeited. In the event of such forfeiture, the organizers shall have the option of either holding another raffle or disposing of the vehicle with the proceeds reverting to said organization.